Annual pilgrimage to Walsingham (England)
The 2018 annual pilgrimage to Walsingham by supporters of the SSPX attracted 91 souls.
The pilgrimage took place on Saturday the 1st of September, followed by Mass at the Abbey ruins, but some pilgrims remained in the village overnight and Fr. Ockerse offered Mass at the Abbey ruins at 11:00am on the morning of Sunday the 2nd of September.
The weather was warm, dry and sunny, which was good because a sung Mass was held on the grass surrounding the Abbey ruins at the end of the pilgrimage. After the Mass, the faithful moved across to the site of the Holy House where Fr. Ockerse led prayers for Priestly and Religious Vocations and for the Solemn Consecration of our Faithful, our Families and our Country to the Sorrowful and Immaculate Heart of Mary.
---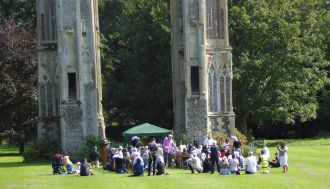 Preparing for Mass after the pilgrimage from the Slipper Chapel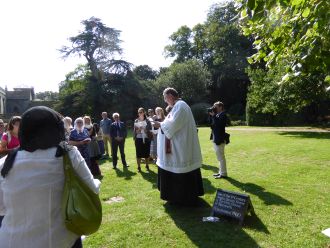 Fr. Ockerse making the intercessions at the site of the Holy House